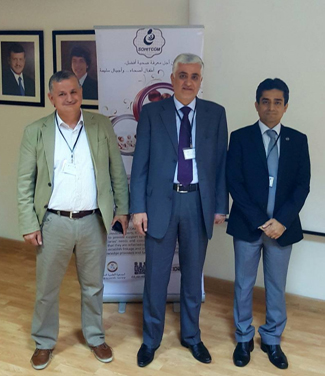 Dr. Ahmed Ta'ani part of the Department of Computer Science, Yarmouk University in the Third International Workshop on applications of information and communication technology in the fields of education, health care and agriculture, which was held recently at the Royal Scientific Society in Amman, organized by the Information Technology Islamic network in Pakistan and ISESCO in Morocco, and lasted two days .
And Dr Ta'ani During the workshop, a lecture entitled "Expert Systems in the field of health care applications," which dealt with the importance of artificial intelligence and expert systems in the field of health care, reviewing the most important smart systems and modern systems expert in the diagnosis of diseases, such as diagnostics systems, and a description of the blood disease treatment, and systems expert for diagnosis and care of diseases, internal medicine, and lung diseases, diseases of high blood pressure.
Participated in this scientific workshop, more than 50 researchers who are interested and specialists from Jordan, Palestine, Morocco, Pakistan states.