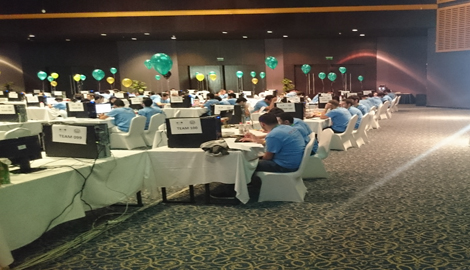 Yarmouk students participating in the competition for Arab software and information technology
two teams of students participated Faculty of Information Technology and Computer Science at Yarmouk University seventeen Arab competition for software and information technology for university students "ACM-ACPC 2015", which was held recently in Sharm El-Sheikh, Egypt, and lasted four days.
And participated in the competition of 90 teams from ten Arab countries, which occupied the two teams positions 38 and 56 in the Arab world, and took second and ninth at the level of participating teams from Jordan, This is the first time that Al-Yarmouk University participated in this former internationally known and supervised by the major global technology companies and institutions.
He pointed College Dean Dr Sulaiman Mustafa to the importance of participating in such an Arab competitions started working on the development of the skills of creativity, innovation and teamwork, show contestants abilities to work under the available time pressure, and strong competition to solve one of life dilemmas using logic and planning and strategy possible solutions.
He pointed out that the Yarmouk won the second place on the level of Jordan out of sixteen teams participating in the competition of Jordanian universities, and Princess Sumaya, science and technology, and Balqa, and Jordan, and the House.
For their part explained Dr. Ahmed advocacy head of the Department of Computer Science, and Dr. Ahmed Saivan from the Department of Computer Information Systems overseers on the two teams, the teams competed on innovation and programmable electronic solutions to the problems of life, be put up during the competition in the form of questions directed the jury to the rider to find quick solutions and effective and easy to implement and cost at the same time.
This is a contest for software that participated by teams from Egypt, Morocco, Tunisia, Lebanon, Syria, Kuwait, UAE, Oman, Qatar, in addition to Jordan, the oldest and largest international competitions in the field of computer programming, where he held since 1970 under the auspices of the Organization international Computer Science.