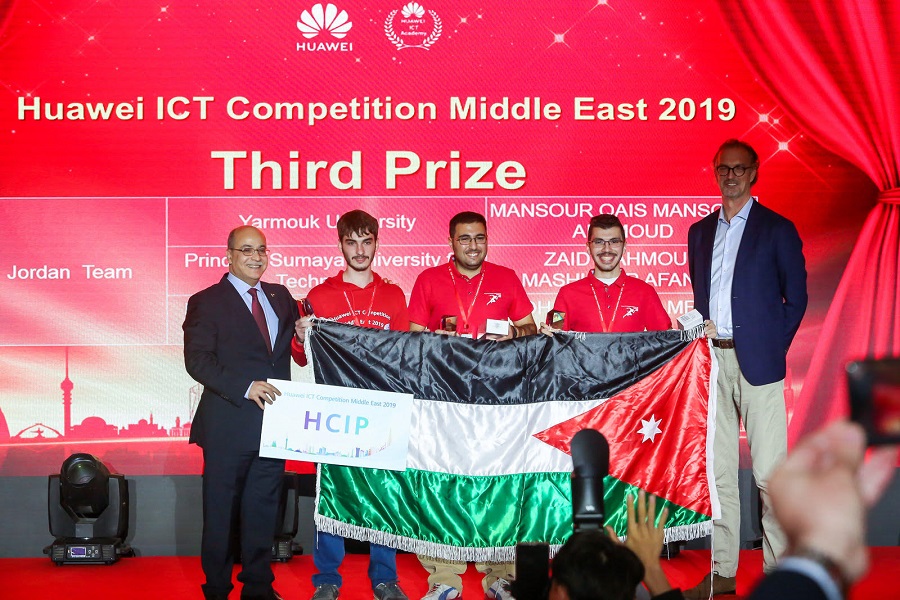 The Jordanian team consisting of student Mansour Al-Homoud from the Faculty of Information Technology and Computer Science
at Yarmouk University, Zaid Afaneh, and Mohammed Abu Shukr from Princess Sumaya University for Technology ranked third among 13 teams that gathered 39 students from various countries in the Middle East at the 2019 Huawei Global Competition, which was held recently at the company's headquarters in Shenzhen, China.
Kafafi congratulated the students of the competition,Expressing the pride of Yarmouk for the outstanding students who have proven their scientific and academic excellence in various competitions at the local, Arab and international level, stressing the university's keenness to support and care for its creative students, and follow-up their educational career, and qualify them with the basic scientific skills necessary to raise their level of competitiveness in the international labor market, and to be able to bring about the positive change required for Jordan's progress .
The 2019 finalists attracted more than 21,000 students from 437 colleges and universities from Bahrain, Iraq, Jordan, Kuwait, Lebanon, Oman, Pakistan, Qatar, Saudi Arabia, and the United Arab Emirates.
The Jordanian Ambassador to Beijing, Hossam Al-Husseini, and the President of Huawei in the Middle East, Charles Yang, presented the students with their prizes.The Ambassador congratulated the Jordanian team for winning this rank in the Huawei competition, expressing his pride in the level of students participating in this team representing the ambitious and proactive Jordanian youth, and appreciated Huawei's efforts in supporting youth cadres and creative people.