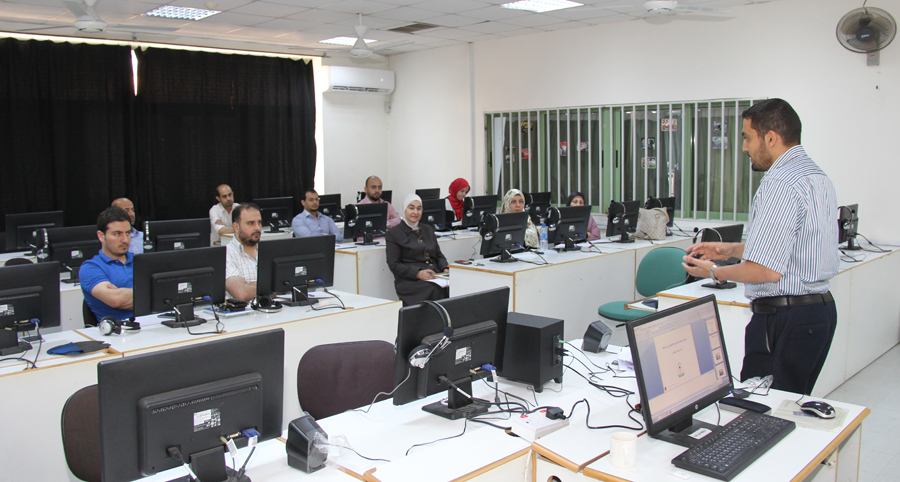 Organized by the Faculty information technology and computer science university and training workshop within the project "Improvement of electronic services at Yarmouk University for Persons with Disabilities," which is implemented by the college with the support of the United States Agency for International Development (USAID), Oھo part of a project to support civil society, which is implemented .FHI 360 initiatives
He pointed College Dean Dr Sulaiman Mustafa to that the college has been since its inception the adoption of research projects and development that contribute to maintaining the reputation of the Yarmuk scientific, process improvement and the quality of learning in them.
He said that the aim of the implementation of this project is to improve electronic services geared to people with disabilities such as registration for the courses, the University website, and progress for exams computerized and use, and learn computer skills, and through the provision is a laboratory equipped with computers equipped with technology assistance to enable students with disabilities to use with ease and easily.
In turn, the price of the project manager and trainer of the workshop, Dr. Iyad Abu Dosh university administration and faculty efforts, which has spared no effort in providing various forms of support for those in charge of the project to its implementation and achievement to the fullest.
He noted that the workshop included training of e-services providers in the university to build Web sites adhere to international standards, digital access, and improve the Web sites and developed according to the digital access standards to enable students with disabilities access to information and communication technologies and new systems, and take advantage of them which contributes to overcoming obstacles technological facing students with disabilities by facilitating their access to various electronic services provided by the university.
During the workshop, in which the number of university employees participated from the examinations computerized, and the Department of web development, and development department student system of the computer center, and a group of faculty members in the College of Information Technology, training participants and practically on how to evaluate the permeability of Web sites for people with disabilities according to the international standards organization W3C.
At the end of the workshop, certificates were distributed to the participants.