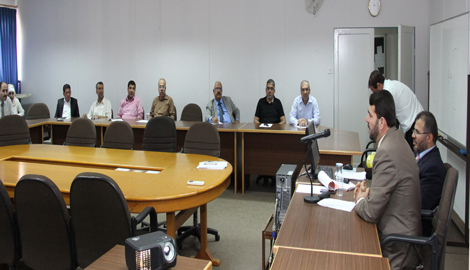 Contract Quality Center and academic development at the University of Yarmouk workshop entitled "Quality and industry change," led by Dr. Issa Alshihabat of the Faculty of Information Technology and Computer Science at the university.
Dr. Samih Alkrnh director of the center pointed to the role of the center in various activities of the organization that will disseminate the culture of quality in the university, and so out of the firm belief that changing the cultures of the most important obstacles that could face higher education institutions when it comes to quality and achievement standards at all levels and their sources , stressing that the success of any organization in their quest for change is based mainly on its members accept the idea of ​​change and the adoption of its operations and to facilitate the procedures.
He explained Dr. flares change the concepts and principles that are looking to universities in the field of quality management integrated application of its standards, as well as to clarify the most important benefits for the university from the application of quality principles to all its components.
He added that the reluctance of quality control and not to participate in the application of its standards have a negative impact on the process of learning the university, making it difficult the possibility of the desired change in the future, reviewing the foundations necessary to achieve quality culture change, and how to cope with this change, and apply some promote change strategies, and how to establish quality and preserving the culture of on her.
Participated in the workshop, a number of assistant deans for the quality and number of faculty members in university settings.