Overview
The department of  Information Technology ( previously ) Management Information Systems (MIS)  was established along with the Faculty of Information Technology and Computer Sciences at the beginning of the 2002/2003 academic year. The department offers  a bachelor's degree in Business Information Technology program and in Cybersecurity program. These programs was designed carefully to provide the graduates with the technical and managerial skills and knowledge needed to analyze, design, develop, put into practice, and manage information and information systems in organizations. The department has various advanced computer labs that being used in teaching programming languages, project management related to MIS, decision support systems, and electronic commerce. In addition, the department has a research lab dedicated to graduate student. At the beginning of 2007/2008, the Master program was established and offers a Master degree in Management Information Systems, this program was recognized as the only of its kind in Jordanian universities.
Vision and Mission of the Department
Vision
The best management information systems department in the region capable of competing globally
Mission
To supply the labor market with graduates equipped with the skill and knowledge needed to construct, develop, manage, and utilize business information systems and able of being creative and innovative.
Vision and Mission of the Business Information Technology Program
Vision
Keeping pace with the development of the business sector and responding to the challenges and meeting the requirements of this sector related to information and communication technology.
Mission
To supply the labor market with graduates equipped with the  knowledge and skills needed to design ,develop, and use various business information technologies for developing Enterprise  systems and  the capacity for creativity and innovation.
Programs :
Bachelor 

degree in 

Business Information Technology

Bachelor 

degree in 

Cybersecurity

Bachelor 

degree in Management  Information  Systems (Officially Stopped)

Master degree in  Management 

 Information 

 S

ystems
Phone : 0096227211111     Ext. : 2634
This email address is being protected from spambots. You need JavaScript enabled to view it.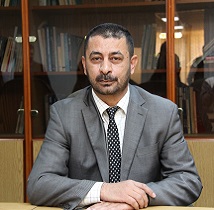 This email address is being protected from spambots. You need JavaScript enabled to view it.
 3843