Overview
The Department of  Information Systems (IS) was established in the academic year 2002/2003 as part of the Faculty of Information Technology and Computer Sciences. The department offers a bachelor degree in CIS which provides promising employment opportunities in business, industry and the area of Information Technology. Recently in 2008, the department has reviewed the curriculum for the bachelor degree and a new comprehensive and emergent curriculum has been approved.

As for higher education, the department offers a Master degree in CIS (comprehensive Exam track) as well as a joint diploma degree in ICT with the University of InHolland, the first to be offered program in the Middle East. This Diploma integrates the usage of ICT technologies into education. In the 2008, the department established a new special Master track to suite employed students, where the lectures are held on Thursday evenings and Saturdays. 

Several well equipped labs are set up to serve students which include some specialized labs such as Multimedia labs, Software Engineering Labs, and Database labs.

The department provides the academic requirements for the use of computer skills for various colleges and disciplines at the university.
The main objective of the Department is to improve the quality of teaching by concentrating on the practical part of the classes that needs practical training in addition to the theoretical classes.
Vision and Mission
 Vision
The Vision of the Department is to be a leading entity in providing the highest quality CIS program by promoting the value of learning among students and staff and innovating new technologies and services based on the needs of the society.
Mission
The mission of the IS department is to teach students the necessary knowledge and skills needed for dealing with information to fit the CIS market requirements. Moreover, the department mission includes providing highly qualified people to serve the community with its different disciplines. Through the persistent research and development, the program will achieve the highest quality graduates and improve faculty members' competencies.
Programs :
Bachelor degree in Computer Information  Systems
Master degree in   Computer Information  Systems  
 Phone : 0096227211111     Ext. : 2635
 This email address is being protected from spambots. You need JavaScript enabled to view it.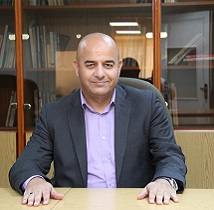 This email address is being protected from spambots. You need JavaScript enabled to view it.
 2531